​​​​​​​What We Know so far About the Electric VW in Albuquerque, NM
Along with every other car company you've heard of (and many you haven't), Volkswagen has big plans for an electrified future. If you're thinking about shifting to an electric vehicle for yourself and your family, you should consider an electric Volkswagen in Albuquerque, NM. Sophisticated comfort, thrifty performance, and pleasant driving characteristics await you! The famous German automaker has been in the planning stages for electrification for a while but has only recently started the transition into the greener realm of EVs. And despite the selection of electric VWs being currently limited, we can expect many more models to join the ranks shortly.
Volkswagen's Future is Electric
Tesla better watch out! Even though Elon Musk's brainchild is still at the top, with more than 936,000 EVs sold in 2021 and a share of around 14% of the electric car market worldwide, Volkswagen isn't far behind! Last year, VW took about 11% of the global EV market and made twice as many electric vehicle sales as it did in 2020.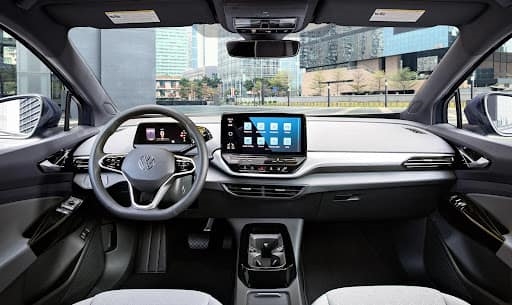 With the taste of success lingering, the company is now hungering for and gearing up to take the lead. VW plans to say farewell to the internal combustion engine within the next ten years and gradually phase out all gasoline-powered cars and SUVs from its US lineup. After that, it plans to manufacture and sell electric vehicles exclusively.
Offerings of Electric VW in Albuquerque, NM
There are only a few Volkswagen vehicles that are electric at this time, but the ones that are offered all rank high within their classification. The current lineup of VW's electrified autos includes the following:
The ID.4: This is the company's first-ever, fully electric SUV model. It debuted here in the US just last year, so it's only fitting to be a very contemporary and cutting-edge electric vehicle. Thanks to its quality German engineering and a 201-horsepower electric motor, this compact crossover serves up spirited acceleration and superior handling, with a 250-mile range and an estimated 104/89/97 MPGe city/highway/combined fuel economy. It also comes equipped with an 11-kW onboard charger, a 110V charging cable, and features a DC charging rate of up to 125 kW, meaning it can be charged with 60 miles of range in just ten minutes on a DC fast-charger.
The ID.6: Set to debut in 2023, the ID.6 will be offered as two models inspired by the ID.Vizzion Concept sedan and the ID.Space Vizzion wagon. Available versions should include a dual-motor arrangement with an all-wheel drivetrain or a single electric motor setup with a rear-wheel drivetrain. The performance version GTX will reportedly make the 0-60 mph acceleration in about 5.5 seconds. Various battery sizes will be offered, the topmost to provide a 431-mile driving range on only one charge.
The ID.Buzz: Although the 2024 ID.Buzz was never intended for the US market, the hype created from it (since 2017, there's been speculation) persuaded Volkswagen that a van geared explicitly for the American market was needed. It's now been confirmed that a longer version is in the works for the US. Because Americans tend to use the third row, VW is working on extending the length of the ID.Buzz so that the average (full-size) adult can fit back there. Nothing official has been leaked about the extra length, but we think it'll be enough to accommodate that third-row plus leave room for ample cargo capacity. Right now, the minibus has an electric motor that puts out 201 hp and 228 lb-ft of torque and is powered by an 82-kW battery.
Stay Tuned
For now, we only have pricing for the ID.4. Starting MSRP is $41,230, which could decrease to $33,260 after a potential tax credit. If you're curious about the upcoming lineup of electric VW in Albuquerque, NM, visit our dealership at 8201 Lomas Blvd NE in Albuquerque, and we'll be glad to answer your questions.