What are the enhancements of the 2024 ID.7 near Rio Rancho NM?
​​​​​​​​​​​​​​The all-electric 2024 ID.7 near Rio Rancho NM is a midsize sedan offering two battery options. It can get about 435 miles in the Worldwide Harmonized Light Vehicle Test Procedure (WLTP) cycle. Not only will it get you to your destination, but it will also get you there comfortably. It provides ample room for all passengers to stretch out.
2024 ID.7 near Rio Rancho NM: ID.7 Highlights
Take in the fresh air on a beautiful day in your 2024 ID.7 near Rio Rancho NM, with the available polymer-dispersed liquid crystal electrochromic dimming panoramic sunroof. It switches between opaque and transparent with just a touch of a button. Additional features include massaging front seats and a Harmon Kardon audio system. The ID.7 has an innovative air conditioner that can detect when the key is near and heat or cool the vehicle before the driver arrives. You will not have to be concerned about cold hands anymore with the new voice command feature allowing you to give the command to turn on the heated steering wheel. The exterior of the VW ID.7 has a sleek, elegant slope toward the rear glass that has a seamless flow to the subtle spoiler. It offers two battery options, including a 77-kWh and an 86-kWh battery. It is engineered for long-distance traveling and is expected to reach around 435 miles on a charge.
ID.7 Features
The 2024 ID.7 near Rio Rancho NM comes in four trim levels. It provides a spacious and sophisticated cabin with its longer wheelbase comfortably accommodating up to five passengers. Plus, all passengers will have tons of headspace and legroom to stretch out. It has a large center console and a 15-inch infotainment touchscreen hovering over the dashboard. It has a devoted section for climate controls across the bottom of the screen. There are plenty of buttons on the steering wheel and dashboard for easy access. A head-up display projects the vehicle's speed, turn signals, and other crucial information onto the windshield. It comes with Volkswagen's Park Assist Pro and other Level 2 driver assistance safety features.
Available Features
The VW ID.7 offers 14-way adjustable seats with heating and cooling ability. The ID.7 seats are also able to detect heat and moisture and automatically activate heating or cooling as needed. An important feature is the fast charging ability of the ID.7. It offers a 200kW DC quick charging battery pack that can increase driving range up to 186 miles in only fifteen minutes. Plus, you can use a home or public charger to completely charge your ID.7 in about eight hours.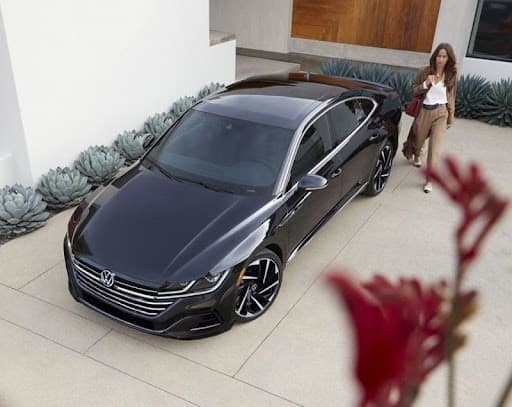 Fiesta VW
If you're searching for an elegant eco-friendly sedan, you must take a look at the re-energized 2024 Volkswagen ID.7. It comes in four different trim levels ensuring there's an ID.7 to suit your needs. Our specialists are prepared to help you find your ideal ID.7, as well as answer any questions you may have. For the most up-to-date news on the ID.7, check our website or call one of our team members. Stop in to view our featured vehicles displayed in our dealership showroom at 8201 Lomas Blvd NE Albuquerque, NM 87110.