VW electric vehicles near Rio Rancho NM: VW Electric Vehicles
When you think of VW electric vehicles, there are unique options. VW electric vehicles near Rio Rancho NM offer a couple of electric vehicles for you to browse. Check out our ID.4, ID.Buzz and be on the lookout for the ID.7.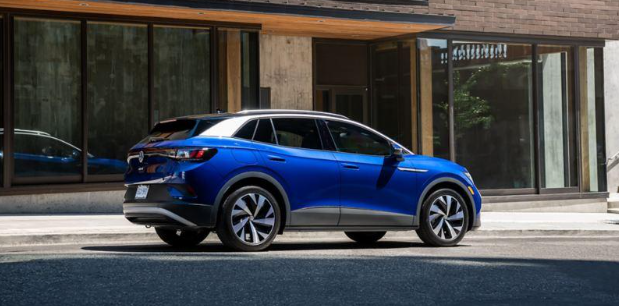 VW electric vehicles near Rio Rancho NM: EV Models
The VW electric vehicles near Rio Rancho NM include the ID.4 and the ID.Buzz. Plus, Volkswagen will be releasing the 2024 ID.7 sedan. All electric vehicles offer home charging options as well as public charging when you're on the road. You also get Carefree Coverage with the purchase of a new Volkswagen electric vehicle. Carefree Coverage includes products and services that have:
2 Years Service – Scheduled Carefree Maintenance
3 Years Help – Roadside Assistance
4 Years of Coverage
5 Years of Convenience
ID.4 and ID.BUZZ Features
Come by to check out Fiesta VW electric vehicles near Rio Rancho NM. The VW ID.4 is an all-electric SUV. It is stylish, spacious, and electrifying. The electric engine delivers quick acceleration going 0-60 in 5.7 seconds, with a remarkable driving range of 275 miles. It presents a bold exterior with sleek lines and a roomy, sophisticated interior; all gadgets are at your fingertips. Add the panoramic fixed glass roof with an electric sunshade to bring the outdoors inside. The VW ID.4 is ready for an adventure with intuitive technology, an innovative touchscreen, a remote interface, and applications that will enhance your traveling experience.
The VW ID.BUZZ offers a nostalgic and fun driving experience. The new retro microbus will offer rear and all-wheel drive and three rows of seating. It will also provide a single or dual-motor option. Volkswagen will offer a larger battery that is expected to get around 260 miles of range on each charge with a faster charging time. The interior will have adjustable armrests, ambient lighting, massaging front seats, fold-out tables, a removable center console, and seating for seven. We can expect to see the new VW ID.BUZZ is to be released in the United States in 2024.
Charing Your VW EV
Volkswagen offers a Level 2 home charger by Electrify Home to charge your EV while you sleep conveniently. Another charging option is public charging stations spread throughout the nation.
​​​​​​​​​​​​​​
Fiesta Volkswagen
Volkswagen's goal is to offer ten new electric vehicles by 2026. Our team is well-informed regarding all our EV models. We are prepared to share our EV facts and answer any questions. We can provide updated information on the new ID.BUZZ and assist you with custom ordering your new electric vehicle.
Once you've picked the perfect EV to fit your needs, our finance pros are waiting for an auto loan that suits your financial needs. Fiesta Volkswagen's finance specialist will find an auto loan rate that compliments your budget. We can also check for incentives available to buyers of electric vehicles.
We can't wait to assist you with purchasing your new Volkswagen EV. Please come by and let our Fiesta Volkswagen team educate you on our electric lineup. Sign up for updates on our EV lineup, visit our comfortable waiting area, and browse our showroom at 8201 Lomas Blvd. NE Albuquerque, NM 87110.