Volkswagen service in Albuquerque NM: VW Service
Whether you are buying a new Volkswagen, or you already own a Volkswagen, it is crucial to have it serviced regularly. There's no better place to take your vehicle than to Fiesta Volkswagen service in Albuquerque NM. You can stop searching for a full-service dealership, and you've found it – Fiesta Volkswagen!

​​​​​​​
Volkswagen service in Albuquerque NM: Services
Our Volkswagen service in Albuquerque NM has certified technicians trained to perform automotive maintenance or repairs on your Volkswagen. We can prepare to handle the simplest car need to the most challenging. You can call our service department or come in to schedule a service appointment for any of our services. We can change the oil in your Volkswagen as recommended based on mileage. We have full-synthetic oil and diesel-full synthetic oil. Our service center also offers conventional oil changes recommended for older car engines. The synthetic oil change is the purest type of oil and can maximize performance. The semi-synthetic oil is a blend that is cheaper and offers some benefits of synthetic oil. We have a full Tire Department that can perform routine tire maintenance, inspect tires, repair holes, rotate your tires, and balance your new tires. Our technicians can also perform brake services on your Volkswagen to make sure they are working correctly. If your battery is not doing its job, we can check it and replace it if needed. We all know that the transmission is an essential the part of vehicle, and our service technicians can exchange transmission fluids, inspect your transmission, and repair or replace your transmission.
Additional services we provide in our service center are:
Replace Windshield Wipers
Multi-Point Inspection
Clean Air Ducts
Differential Service
Cleaning Fuel System
Replace Fuel Filter
Service and Repair Electric Vehicles
Exchange Coolant Fluid
Replace Cabin Air Filter
Replace Engine Air Filter
Diagnose Check Engine Light
Trained Technicians
You will always get certified Volkswagen service in Albuquerque NM. We know you have other choices when it comes to car care. However, at Fiesta Volkswagen, you will get expert technicians with profound knowledge obtained from advanced Volkswagen training courses. They are trained to follow strict Volkswagen protocols and guidelines. The technicians also return your vehicle to factory specifications if at all possible.
Service Specials
At Fiesta Volkswagen, we offer a variety of service specials, including:
Oil Change
Tire Rotation
Windshield Wiper Replacement
Battery Replacement
Four-Wheel Alignment
Transmission Fluid Exchange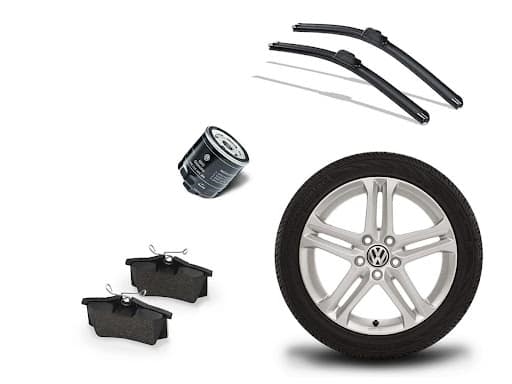 ​​​​​​​
Fiesta Volkswagen
Please stop at Fiesta Volkswagen to browse our inventory, schedule a service appointment, or order parts and accessories. You will be tickled with your Fiesta VW experience and blown away at how we ensure our customers' needs are our number one priority. Our Fiesta VW team knows how fortunate we are to have the chance to serve Albuquerque and nearby communities. Come in or call our service department, and expert technicians can answer any questions regarding servicing or parts for your Volkswagen.
Come by and visit us at Fiesta Volkswagen and view our showroom at 8201 Lomas Blvd Albuquerque, NM 87120. We realize there are many other Volkswagen dealerships in the Rio Rancho area for you to shop at; however, we are confident your experience at Fiesta Volkswagen will surpass your expectations.