Volkswagen EV in Albuquerque NM: Electric Vehicles
We are taking charge when it comes to electric vehicles! Stop by to explore Volkswagen EV in Albuquerque NM. Volkswagen presents the ID.4 and the ID.BUZZ for an electrifying driving experience.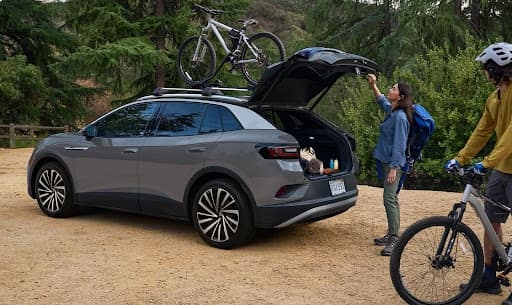 ​​​​​​​
Volkswagen EV in Albuquerque NM: ID.4
We are thrilled to present our Volkswagen EV in Albuquerque NM. The 2023 Volkswagen ID.4 SUV is an electric vehicle you want to consider. It is engineered to provide all the amenities you need. It delivers style, function, and diversity, which makes it stand out among other electric vehicles. You will get an estimated range of 275 miles. The new 2023 VW ID.4 offers all-wheel drive providing more traction when driving in slippery road conditions. In addition to all-wheel drive, you will get a second electric motor for the front wheels granting quicker acceleration. It has intelligent handling, which distributes the power where it is needed.
Trim Levels
The ID.4 electric vehicle comes in six trim levels, ID.4 Standard, ID.4 S, ID.4 Pro, ID.4 AWD Pro, ID.4 Pro S, and ID.4 AWD Pro S. All trim levels present a spacious cabin with modern features. Its interior is uniquely designed, wildly sophisticated with clean lines, and has a straightforward design. All the knobs are easily accessible and comfortable. The ID.4 is overflowing with technology and safety features.
Charging
You can charge your Volkswagen ID.4 electric vehicle with a Level 2 home charger. The Level 2 charger can fully charge your battery overnight, only taking around 7.5 to 11.5 hours. The Level 3 public DC Fast Charger can get you back on the road in about ten minutes. There are also over 1,700 charging stations scattered across the country. That number is predicted to grow to over 9,500 by the end of 2025.
ID.BUZZ
Another Volkswagen EV in Albuquerque NM you want to take a look at is the ID.BUZZ. It delivers groovy vibes that bring you back in time. It is full of character and fun to drive. It is expected to be revealed in 2023. You can sign up for updates of the ID.BUZZ to find out details on the US model.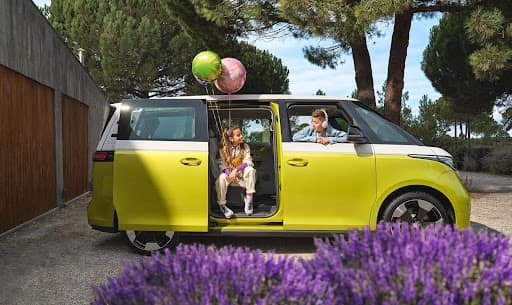 ​​​​​​​
Fiesta Volkswagen
Our magnificent staff at Fiesta Volkswagen continues to deliver superior customer service and top-quality new, used, and certified pre-owned vehicles. Our staff looks forward to continuing to serve our community and nearby communities, ensuring our customers return to Fiesta Volkswagen for all their car buying, leasing, service, accessories, parts, and financing needs. We wait for our customers to return to our dealership when they are ready to upgrade, lease, or trade-in their vehicles. Please stop in and let our car experts help you find the perfect Volkswagen that fits your needs.
Please explore our website to skim our collection of new, used, and certified pre-owned Volkswagen vehicles, accessories, incentives, and service specials. Check our inventory regularly since it's updated often. For a stress-free car buying experience, we provide a couple of links on our website for your convenience. Our professionals are excited to answer any questions regarding our inventory, financing, service, incentives, and specials. We can also answer questions and help you reserve your new ID.4. Our factory-trained service pros can manage all your routine maintenance, and we only use authentic Volkswagen OEM parts.
Please come by Fiesta Volkswagen and view our showroom at 8201 Lomas Blvd. NE Albuquerque, NM 87110. There are numerous other Volkswagen dealerships for you to work with; however, we promise that no other dealer will deliver the exceptional car-buying experience you will receive at Fiesta Volkswagen.
We would love the opportunity to show our outstanding customer service as we guide you through the car-buying process.