Tips for Buying Your New Volkswagen in Albuquerque, NM
Unless you've got your eye on a specific model and know what you want, you may start to feel a little stressed out when choosing which particular Volkswagen vehicle to buy. Those feelings are natural, but we want to eliminate your stress as much as possible. Let's discuss the essential points to consider when purchasing a Volkswagen in Albuquerque, NM.
The Selection Process
Most shoppers look at price as the first and most crucial component in the buying process. Before you even begin looking for the perfect VW, it's necessary to set a budget. By establishing a budget, you can narrow your search for a more focused shopping experience.
Within each VW model, there will be varying prices based on starting price, trims, and the standard equipment. As available packages and features are added, the starting price increases. Available features may be worth the advertised price if you, the buyer, decide the added conveniences improve your driving experience, and it's worth the extra cash.
The end goal should be to select a VW that fits your budget while providing the most value.
Find a Volkswagen in Albuquerque, NM that Fits your Lifestyle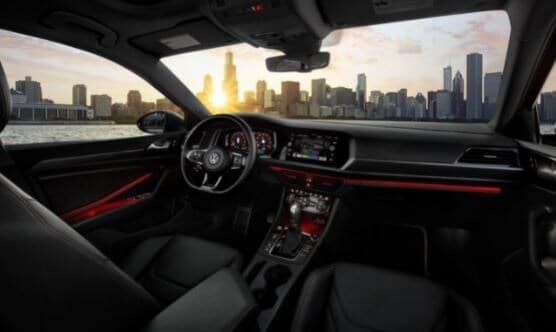 Jotting down or outlining what you want in a vehicle may help direct you toward your ideal VW vehicle. If family outings are a big thing in your household, and you're bringing the whole gang along much of the time, the full-size VW Atlas has the roomy interior your family needs. If you want an SUV but don't want to spend as much at the pump, you'll love the VW Tiguan's excellent fuel economy. For a more compact ride, there's the dependable Jetta, an outstanding sedan for commuters. And have you seen the VW Arteon sedan? Its sleek and sexy lines are sure to wow those buyers searching for a performance sedan Thinking about how you'll use your vehicle makes finding the exact VW model for your needs and preferences easier.
Add Features to Create an Enjoyable Ride
The Volkswagens of today offer quite a variety of available features. It may help to know that different packages will upgrade various components of your VW. Technology, safety, and security are usually a point of emphasis in the area of available amenities. Adaptive Cruise Control is one example of an add-on feature that produces a very convenient interstate or long-distance driving experience. ACC begins with establishing a preset distance that you want to keep from the car ahead of you. Thanks to the ACC's technology; your VW will do the rest, which automatically slows your car when that established distance decreases. When the gap (space) you've set widens, the ACC brings you up to speed automatically. This driver-assist/safety feature is just one of many that are available for your new VW. Take into consideration which driving elements are most important to you to select the ideal ones for your vehicle.
Meet your Performance Requirements
One last detail to consider is what kind of performance do you want? Do you like to go fast? Does responsive handling top your list of priorities? Do you need towing ability in an SUV? No matter what your preference, there's a VW to match it. Our team at Fiesta Volkswagen in Albuquerque, NM is ready and waiting to help you find the VW with the right performance, spaciousness you need, and must-have amenities. Check out our inventory online, and then stop by to visit at 8201 Lomas Blvd NE in Albuquerque, New Mexico when you're ready for your new Volkswagen!
Contact
Fiesta Volkswagen
8201 Lomas Blvd NE Albuquerque, NM 87110
Sales: 888-285-9928
Service: 888-306-7794
Parts: 888-356-1952