​​​​​​​The VW Tiguan Allspace in Rio Rancho NM Proves Bigger is Better
The VW Tiguan Allspace in Rio Rancho NM wins with its larger size and increased enhancements in a game of inches. Whether it is cargo space or legroom, this SUV subscribes to the notion of giving the driver and passengers the most enjoyable driving experience available in an SUV.
From Five to Seven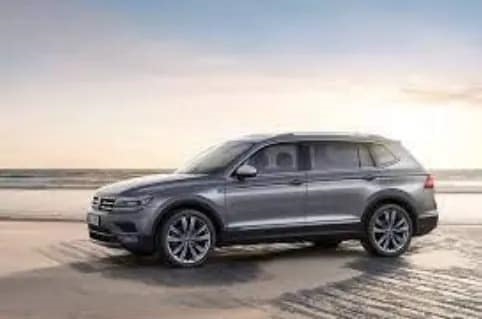 Parading as an expert in disguises, the VW Tiguan Allspace in Rio Rancho NM travels the streets as a five-seater SUV with plenty of room for the family. With bucket seats populating the front row and a comfortable bench making up the second row, everyone seated experiences extreme comfort with plenty of real estate to enjoy. For the instances of surprise when another passenger or two are added to the formula, the Tiguan Allspace answers that surprise with one of its own. Like a metamorphosis birthed in nature, a sleek third row of seating for two folds out from the floor. With its ability to conform, the Tiguan Allspace perseveres and accommodates for about all driving situations it encounters.
VW Tiguan Allspace in Rio Rancho NM: Technology
Volkswagen took the technological gains of superior engineering and dispersed them throughout the new Tiguan Allspace. Outfitted with a choice between an eight-inch or 9.2-inch touchscreen display, drivers can gain control of an abundance of features. A three-zone climate control system will provide comfort while satellite navigation offers accurate directions to destinations of choice. An upscale infotainment system provides for compatibility with Apple CarPlay and Android Auto. While enjoying tunes from your smartphone, contentment musters as App-connect enables wireless charging. All these technological advancements make the Tiguan Allspace loved by all.
Stepping Up Safety
Considering the VW Tiguan Allspace possesses more, it is only fitting that it furthers that methodology to ensure the safety of anyone riding in the vehicle. Afterall, Volkswagen remains loyal to providing vehicles known for the absolute best in safety. Manoeuvre Braking is the latest in Volkswagen's safety technology and makes parking easier to avoid an unwanted collision. Driver Fatigue Detection monitors steering movements and a collection of additional signals to evaluate the driver's condition. If fatigue has set in, the vehicle enables an alarm that warns drivers of their condition and suggests a potential driving pause. Safety knows no boundaries with the Tiguan Allspace.
Wolfsburg Edition
Capitalizing on the excitement produced by the Tiguan Allspace, the Wolfsburg paints the SUV with elegance. Glistening Suzuka 20-inch alloy rims carry Wolfsburg's frame with its matching grille and side mirror caps. Dark tinted windows add to a sense of mystery, while the heads-up display and digital instrumentation cluster only enhance the advancements in technology lending for a futuristic driving experience. For those who love the Tiguan Allspace, the Wolfsburg edition will completely seal the deal. To learn more about the Volkswagen Tiguan Allspace and its features, contact Fiesta VW at 8201 Lomas Blvd NE Albuquerque, New Mexico 87110. The friendly and extremely helpful staff at Fiesta Volkswagen are eager and ready to help find your perfect vehicle.
Contact
Fiesta Volkswagen
8201 Lomas Blvd NE
Albuquerque, NM 87110
Sales: 888-285-9928
Service: 888-306-7794
Parts: 888-356-1952