The VW in Albuquerque NM Echoes the Name, Fiesta
For anyone searching high and low for a new VW in Albuquerque NM, or the surrounding area, you should treat yourself and visit Viva VW. By combining an impressive inventory and superb service, purchasing a new car could not be any easier. A proven track record illustrates how advanced the Fiesta staff is when pairing a buyer with the VW of their dreams.
Full Circle Financing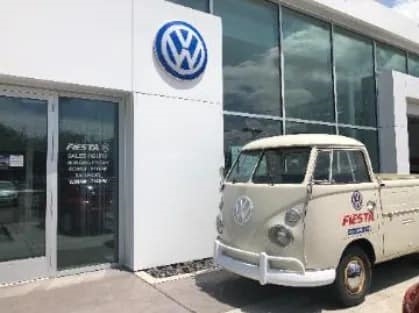 Fiesta VW in Albuquerque NM commands a variety of tools in serving its clientele. Their premier finance center assists on a variety of levels. An online credit application is easily accessible on the Fiesta VW website for those wishing to shop from home. Securing approval could never be made more accessible. For the deal and bargain hunters, Fiesta provides a list of incentives. Another visit to the website and the service center page allows potential car buyers to shop for vehicles and incentives. Now, deals are made known before visiting in person. If your current mode of transportation figures into the equation, potential buyers can visit Fiesta's website and utilize the Kelley Blue Book Instant Cash Offer tool. Simply answering a few questions yields a cash offer. Nothing says premier service like a finance center that has you covered at all ends.
VW in Albuquerque NM: Service
Vehicle service is a cinch at Fiesta VW. Service is quickly scheduled and completed, whether it is on the phone, in person, or through the web tool. Trained professionals ensure a timely and professional experience. Ranges of service vary, but Fiesta provides for all. Standard engine work and routine oil changes are easily accomplished in addition to tire rotations and alignments. The service is quick and efficient with the availability of VW parts. An inventory of parts follows the same theme as inventory; it is significant. Service is enjoyable as a long wait is nothing but an old nightmare.
Inventory
Fiesta VW offers an enormous inventory of new vehicles, but it also matches the same in used inventory. Whether buyers are searching for SUVs or sedans, Fiesta has something for everyone. For some reason, if a selection cannot be made based on the inventory at hand, Fiesta's sales support team can help locate it elsewhere and maneuver it to the dealership. Without a doubt, Fiesta will exhaust all resources in airing you with the vehicle of your dreams. At Fiesta, no one buying a car settles.
Pandemic Tough
Although their website enables Fiesta VW to run sales and service, the staff still adheres to an old business model. Physical interaction and that personal touch are two main ingredients to a healthy car buying recipe. Ensuring the same level of safety found in the vehicles they sell, Fiesta takes proactive precautions in protecting both staff and customers from the onset of COVID-19. The dealership is cleaned and disinfected daily, and social distancing has become part of its mantra. Additionally, hand sanitizing stations are plentiful throughout the dealership, and the staff receives specific hand washing instructions. Taking responsibility to educate and protect only strengthens the commitment that Fiesta makes to its customers. To learn how the dealership can make your car buying dreams come true, contact Fiesta VW at 8201 Lomas Blvd NE Albuquerque, NM 87110.
Contact
Fiesta Volkswagen
8201 Lomas Blvd NE
Albuquerque, NM 87110
Sales: 888-285-9928
Service: 888-306-7794
Parts: 888-356-1952