The 2024 ID. Buzz near Rio Rancho, NM is Finally Here!
As Volkswagen has vowed to help bring the world into the EV market, its much-anticipated 2024 ID. Buzz near Rio Rancho, NM has finally been unveiled. This new twist on the iconic VW Microbus from the 1960s and 70s is sure to win the hearts of VW enthusiasts around the world, along with transforming the automotive EV industry. With state-of-the-art technology and nostalgic design cues, this minivan could be pivotal in environmentally-friendly transportation.
A Homage to the Past
The 2024 ID. Buzz is a tribute to its Microbus ancestor, a vehicle that instantly evokes thoughts of adventurous road trips and free-spirited fun. Its design elements nod to the retro appeal of its predecessor, with a two-tone paint job, a boxy shape, and a front fascia that gives the impression of a friendly smile. This blend of classic design cues with a more futuristic look demonstrates the company's commitment to maintaining its strong heritage while adopting a new outlook on the future.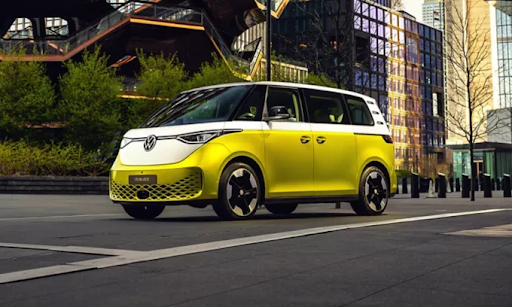 2024 ID. Buzz near Rio Rancho, NM: Performance
Beneath the attractive exterior, the new ID. Buzz houses a robust electric powertrain that delivers excellent performance and efficiency. VW guarantees a variety of battery choices, so that buyers can find the right balance between affordability and range. With the dual-motor configuration, the modern ID. Buzz comes with AWD, making it more capable in inclement weather conditions and over different terrains. Electric vehicles' near-instant torque and fluid acceleration promise an exciting ride that will exceed your expectations.
Adaptable Interior
Inside the cabin of the ID. Buzz, you'll find a roomy and versatile interior, thoughtfully designed to accommodate passengers and cargo. Thanks to the flexibility of the modular seating arrangement, you'll have no problem with the configuration of the seats for road trips, outdoor adventures, and more. And since there's no transmission tunnel, the ID. Buzz has a flat floor, allowing for a more open, airy space that improves accessibility. If you need a multi-purpose vehicle that can do it all, the ID. Buzz is it!
Advanced Technology
Along with its nod to the past, the 2024 VW ID. Buzz is also mired in the future with its cutting-edge technology. An outstanding infotainment system with a large touchscreen keeps controls, navigation, and entertainment at your fingertips, while innovative driver-assist features help keep everyone safe on the road. And with over-the-air updates, the ID. Buzz is set to constantly progress by introducing new features and upgrades to enhance your ownership experience.
Sustainable Transportation
As the world endeavors to make a "greener" future, the 2024 ID. Buzz near Rio Rancho, NM symbolizes Volkswagen's dedication to more sustainable mobility. By using a purely electric powertrain, the ID. Buzz has no tailpipe emissions, which promotes better air quality. Combining eco-friendly manufacturing processes and recycled materials furth er emphasizes VW's commitment to environmental responsibility.
Get in Touch
For more information on the ID. Buzz or any of the Volkswagen lineup, contact Fiesta VW. Or better yet, stop by our dealership to see them up close and take a test drive. Find us at 8201 Lomas Blvd NE, Albuquerque, NM 87110.