The 2023 VW Golf GTI in Albuquerque, NM Brings Performance, Practicality, and Fun
The VW Golf GTI has been committed to making driving fun since 1983, so this year marks its 40th anniversary. Continuing its tradition as the original "hot hatch," the 2023 VW Golf GTI in Albuquerque, NM is a compact and lightweight hatchback that offers plenty of fun with its manual gearbox, lively engines, and incredible handling. This year's model takes its famous moniker to the next level with a turbocharged direct-injection TSI® engine, a six-speed stick shift, and an improved suspension for even better handling.
With four doors and a spacious cabin and cargo area, thanks to its hatchback design, the VW Golf GTI provides all the fun and practicality we've come to count on from this excellent little car.
Enjoy the Ride
The 2023 GTI showcases an interior designed for maximum comfort and fun, especially with the driver in mind. It's equipped with a customizable 10.3-inch instrument cluster with VW Digital Cockpit Pro and a 10-inch touchscreen display that lets you easily access your playlists, navigation, and other features with your fingertips.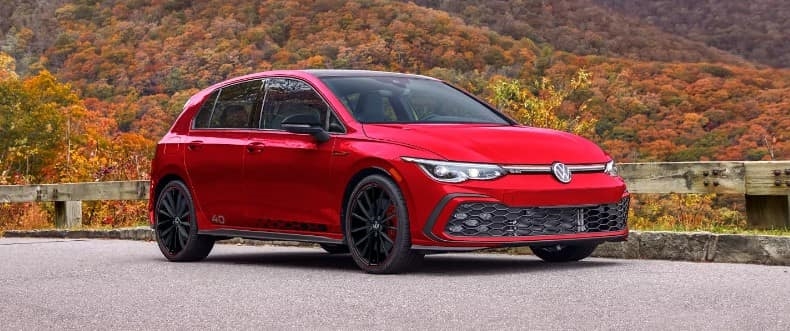 You'll find high-quality materials throughout the cabin and lots of room for passengers and cargo- about 20 cubic feet behind the rear seats. This makes it perfect for chauffeuring the kids and their sports gear to practices or stocking up on groceries. But it's also perfect for taking on winding backroads for more exhilarating driving experiences!
Let the Light in Your 2023 VW Golf GTI in Albuquerque, NM
Make your weekend driving excursions more exciting with the available panoramic sunroof for your GTI. A flood of natural light combined with breezy, fresh air can make a trip to the market a lot more fun. And for those driving adventures through twisting turns on long and winding roads, the fresh air blowing through your hair and caressing your cheek makes for a very pleasurable trip.
Small Yet Surprisingly Good
Even though the 2023 VW Golf GTI in Albuquerque, NM is a compact hatchback, it's renowned for being big on fun. The turbocharged 2.0-liter 4-cylinder engine is paired with a 6-speed manual transmission on every trim level (but an automatic transmission is available). It puts out 241 horsepower and 273 lb-ft of torque while reaching zero – 60 mph in only 5.1 seconds!
However, the GTI is most famous for its razor-sharp handling. Guaranteed to thrill you, the sporty GTI takes on curves and bends with aplomb, showing you where it really shines. With brake-based torque vectoring and an electronically controlled limited-slip differential, this hot hatchback yearns to be driven.
Drive the 2023 VW Golf GTI
Have we piqued your interest in the new GTI? Are you ready to get behind the wheel of one to see for yourself just how much fun it is to drive? Visit us at Fiesta VW, located at 8201 Lomas Blvd NE in Albuquerque, New Mexico and take one for a test drive. Then, make a custom order with us, and get your new GTI with the precise color, features, and options you want. If you're searching for a compact vehicle that's stylish, practical, and lots of fun, it's hard to beat the 2023 VW Golf GTI.