​​​​​​​The 2023 ID.4 Electric SUV in Albuquerque NM has Arrived!
Just as the VW Beetle arrived as the car for the masses back in the 1950s, the 2023 ID.4 electric SUV in Albuquerque NM is Volkswagen's modern EV for the people. The ID.4 combines comfort and practicality with an acceptable driving range to help the average driver make the change from a gas-powered to an electric-powered auto.
Entry-level models are rear-wheel drive, come equipped with one motor, and produce 201 horsepower. If you choose an all-wheel drive model, you'll get another motor and an increased hp of 295. A range of 275 miles per charge is achieved from the top-tier models, but the more affordable base trim couples its lower price with the smaller battery, which gets a range of around 208 miles. Fortunately, DC fast-charging capability comes standard on the ID.4, making it relatively easy and quick to power up at public charging stations.
What's New for the 2023 ID.4 Electric SUV in Albuquerque NM?
As of July 2022, the Chattanooga, TN Volkswagen plant is up and running for EV manufacture, where the U.S. version of the ID.4 has begun production. Joining the lineup for 2023 is the Standard model, the entry-level trim with a more budget-friendly base price. However, the driving range is lowered to 208 miles due to the smaller 58-kWh battery. Another new trim is the top-of-the-line ID.4 Pro S. This model adds more luxury amenities like heated rear seats, a premium audio system, a three-zone automatic climate control, and unique 20-inch wheels.
The larger 12-inch infotainment screen that was optional last year is now standard on every model, along with a few slight design improvements like updated wheel designs, gloss black exterior trim, and changes to the offered paint colors. Interior upholstery choices have been freshened, the center console got a small redesign, and the Pro S models get illuminated VW logos on the front and back.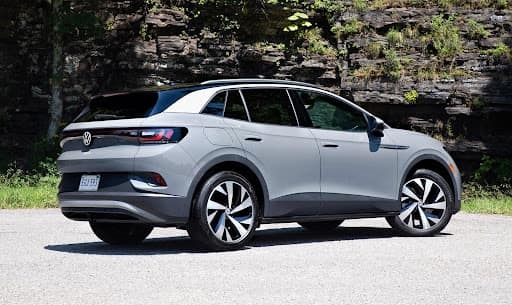 Fuel Economy and MPGe in the Real World
The EPA estimated fuel economy for the RWD ID.4 Pro S at 104 MPGe city and 89 MPGe highway, while the RWD Pro gets 107/91 MPGe city/highway. According to Car and Driver, their test model ID.4 achieved 82 MPGe and kept going for 190 miles. Car and Driver also says that they've found that EPA range numbers may "overstate or understate the real-world highway range difference between EVs." It's important to know that C&D's testing was done in near-freezing temperatures, which will significantly lower the driving range, so the 190-mile outcome is more notable than it seems.
Interior Comfort of the Volkswagen ID.4
Inside the 2023 ID.4 electric SUV in Albuquerque NM, you'll find a modern design with ambient lighting, ample cargo space, and high-tech features. The cabin has clean lines and a tidy, uncluttered appearance, with heated, cloth-covered front seats as standard equipment. Stepping up to the top Pro S model gives you faux-leather upholstery and 12-way power adjustable front seats with memory. Testers fit eight carry-on suitcases in the cargo area behind the back seats and a whopping 26 when the rear seats are folded flat!
VW's innovative infotainment system is standard with a 12-inch display and also comes with navigation for seamless driving. You and your passengers will love the wireless Apple CarPlay/Android Auto that comes as standard, along with a 5.3-inch digital gauge cluster and voice-recognition capabilities.
The VW ID.4 offers loads of standard and optional driver-assist tech. A few of the standard main safety features include adaptive cruise control, auto emergency braking + pedestrian detection, and lane-departure warning with lane-keeping assist.
Ready to Learn More?
If the ID.4 has piqued your interest, come by for a test drive and speak with any of our knowledgeable associates about pre-ordering yours today. We're easily located at 8201 Lomas Blvd NE in Albuquerque, and we're excited to meet you!