New Features of the 2021 Volkswagen Passat near Rio Rancho NM
At a time when new car prices are getting higher and higher, the 2021 Volkswagen Passat near Rio Rancho NM is a solid midsize sedan that offers a lot of value for its cost. Although the company plans to phase out the Passat by 2023, there's still time to get one before it's gone.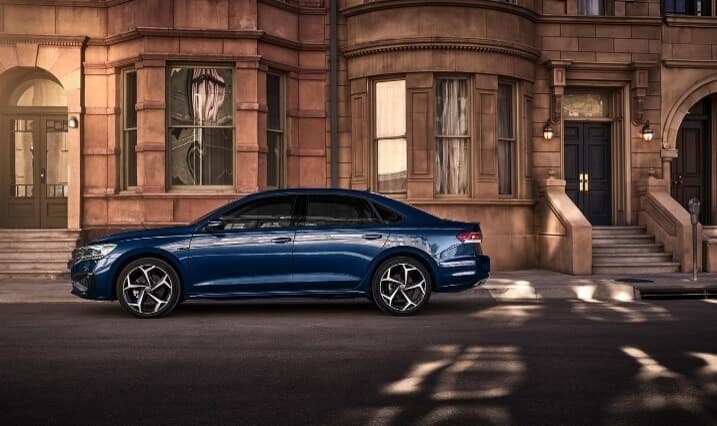 For this model year Volkswagen has reduced the number of trims and options, probably in anticipation of the car's demise, but that's okay. The Passat S, SE, and R-Line that remain are still the classic Passat, which is to say the models are well-built, predictable, attractive, and comfortable. Some might say the Passat isn't as exciting or modern as its rivals, but it possesses a definite European flavor that sets it apart from the competition from Japanese automakers. You could say it's a traditional, yet contemporary look that's uncluttered, with good proportions and a refreshing lack of fluff. Although the trim offerings were reduced, the remaining ones now all come standard with a leather-wrapped gear shift, steering wheel, and emergency brake handle. Safety technology in the 2021 Volkswagen Passat near Rio Rancho NM has improved this year as well with standard adaptive cruise control. All crash tests that were administered by the National Highway Traffic and Safety Administration and the Insurance Institute for Highway Safety were passed with flying colors.
2021 Volkswagen Passat near Rio Rancho NM: Driving and Performance
A turbocharged 2.0-liter 4-cylinder engine that can put out 174 hp and 206 lb-ft of torque powers all models. A 6-speed automatic transmission is paired with it and power is sent to the front wheels. The engine remains refined and smooth throughout the rev range and easily moves the Passat through city streets and busy highways alike. No matter if it's speeding along the interstate or taking shortcuts on back roads, the dependable Passat is ready for the challenge. You'll get a cushioned, almost luxurious ride with good handling, giving you a sedan that's as capable as it is comfortable. Steering is nimble; it lightens up when moving slowly, such as during parking, and delivers better precision and more resistance when traveling faster. Fuel economy is estimated by the EPA to be at 24 mpg for city driving, 36 mpg for highway, and 28 mpg combined. You can expect around a 500 mile range on a full 18.6- gallon tank of gasoline. While the 2021 Volkswagen Passat near Rio Rancho NM doesn't have the most advanced technology inside the cabin, the system is excellent for drivers who want a modern, but not overly technical infotainment system. The standard 6.3-inch touchscreen is integrated into the center of the dash, below the air vents and is very easy to use. Climate controls, tuning, and volume are well-placed and still controlled by traditional buttons, while Apple CarPlay and Android Auto, Bluetooth, and other functions use the touchscreen.
A spacious interior with a huge back seat, and a class leading trunk volume of about 16 cubic feet are two more reasons to choose the affordable Passat. Volkswagen also includes two years of free maintenance, and a 4-year/50,000-mile warranty. The general package of simple design, roomy cabin, and good fuel economy, all at a great price make the 2021 VW Passat a compelling choice for a midsize sedan. Come over to Fiesta Volkswagen to see for yourself. We're here for you at 8201 Lomas Blvd NE in Albuquerque.
Contact
Fiesta Volkswagen
8201 Lomas Blvd NE
Albuquerque, NM 87110
Sales: 888-285-9928
Service: 888-306-7794
Parts: 888-356-1952