Perfecting Tomorrow's Driving with the VW Electric ID.4 in Albuquerque NM
The VW electric ID.4 in Albuquerque NM enters the EV market as not only a contender but the standard by which all other future vehicles will have to meet. The taboo associated with EVs noted small designs with limited room and drive range all enhanced by an appearance that was harsh to the onlooker's eye. VW has changed that opinion from a stigma to a trend setter when it comes to the future of the automobile's tenure on the planet. Without compromising appearance and comfort, VW and its ID.4 changes the hearts and minds of even the most skeptical of automotive enthusiasts.
New Manufacturing Location Brings New Features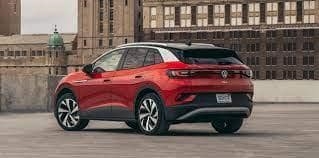 ​​​​​​​The VW electric ID.4 in Albuquerque NM will find its roots here in the United States, specifically in Chattanooga, TN. With a change in manufacturing locations, the vehicle will receive some celebratory upgrading. The already functional center console will receive some attention. An increase in storage is suspected. The new battery supplier proposes an increase in efficiency but not an extension in drive range. Those apprehensive about diving into the deep end and going with an EV can accomplish the feat with baby steps. The ID.4 now comes in a cost-effective base model that promises to be reasonably priced. Taking the new and adding it to the existing, VW's ID.4 is expected to bridge the gap between the traditional car lover and the buyer looking for a better way.
VW Electric ID.4 in Albuquerque NM: Proof in Numbers
The VW ID.4 is expected to provide 280 miles of driving ability compliments of its 77-kWh battery pack. This allows for the vehicle to effectively compete with Hyundai and Kia's EV models. Charging can be received through a 110 or 240-volt connection. The vehicle also offers DC fast charging functionality. Those looking to be more frugal in their selections should be aware that the ID.4 base models come available with a smaller battery. Either way, the ID.4 stacks up as a pleasant vehicle to pilot.
Technological Wonder
The VW ID.4 comes with a huge 10-inch touchscreen, but an upgrade to twelve inches is available. Software is specific to the vehicle. While obviously far advanced, the buyer will need to commit to properly learning the system. Navigation will be offered on VW's latest engineering success and will be compatible with Apple CarPlay and Android Auto. Choice is always a good feature and ID.4 lovers typically have the upper hand. With a digital gauge display and voice recognition, the ID.4's future appears very bright.
Comfort and cargo Room
The ID.4 packs a significant amount of cargo space so packing itself does not stress out the owner. With ample room to carry groceries, duffle bags, or any other cargo, the ID.4 pilot can enjoy a unique design outlined with ambient lighting for a more subtle approach to illumination. The more basic models offer cloth seats, but with a heating option. That is a welcomed feature for those wintry morning commutes. Stepping up in trim levels, EV lovers can enjoy imitation leather seating and a 12-point power adjustable driver's seat. No matter the selection, the ID.4 model chosen will offer ample cargo area that can accommodate a plethora of carry-on luggage and suitcases for the entire family. To learn more about the ID.4 contact Fiesta VW at 8201 Lomas Blvd NE Albuquerque, NM 87110.