The ID.4 Volkswagen Electric Car near Rio Rancho is the New EV for the Masses
The future is here, and for Volkswagen, that future is electric. If you're thinking of making the switch to an EV, you'd do well to consider a Volkswagen electric car near Rio Rancho, NM. Just as the iconic Beetle was designed to be a car everyone could afford, the 2023 ID.4 SUV is the brand's modern (and electric) car for the masses. Combining comfort and practicality with an agreeable driving range, this SUV is the perfect fit to help drivers switch from a gasoline-powered engine to electric.
What to Expect for 2023
Rear-wheel-drive models of the ID.4 have one motor and deliver a maximum of 201 horsepower. If you choose the all-wheel-drive model, hp is boosted to 295 thanks to a second motor. You'll get a range of up to 280 miles per charge, but the soon-to-come base model will have a smaller battery and a smaller price tag. Since the battery will be smaller, the base ID.4 will have less range. But don't worry: DC fast-charging is standard, so using public charging stations should be relatively fast and easy.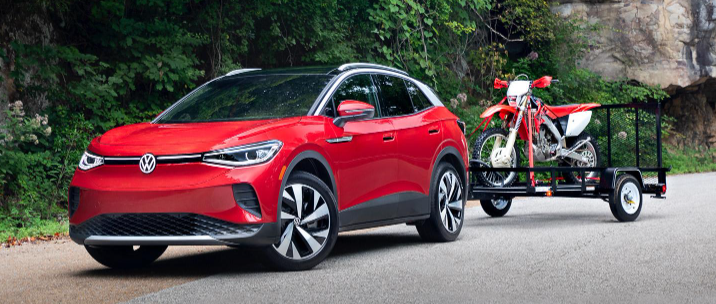 ​​​​​​​
Although the ID.4 is currently manufactured in Europe, the company moving the production of the U.S. version to VW's Chattanooga, TN plant for the 2023 model year. Minor changes are slated for the interior of the U.S. model once production begins, and a change in the battery supplier is expected as well. This lower-cost base model will reportedly go on sale sometime this fall as a 2023 model and should start around $35,000.
Currently, the ID.4 is available in Pro and Pro S trims, with the Pro S equipped with more amenities as standard. However, if you opt for the Pro trim, you can use the money you saved (by not choosing the higher trim) to get the dual-motor AWD powertrain, which will improve performance and up your horsepower, albeit at a price. Range decreases slightly with AWD.
VW Electric Car in Rio Rancho. NM: Performance
Yes, you can tow with the ID.4, and towing capacity maxes out at 2700 pounds in the ID.4, no matter which trim you choose. Thanks to the regenerative braking, you'll recapture some energy when slowing down the vehicle. Still, the one-pedal driving you may have heard about with EVs is mostly missing, even in the car's most robust regenerative mode. There's nothing to worry about, as you're accustomed to using a brake pedal anyway. The customary knock-you-back-in-your-seat acceleration provided by EVs is also lacking, but the ID.4 is by no means slow. It's just a bit more laid-back than some EV competitors, taking about 7.6 seconds to reach 60 mph. The more powerful AWD version makes the 0-60 sprint in about 5.4 seconds. All iterations of the ID.4 deliver a quiet cabin and smooth, refined ride.
The 77-kW battery pack can be charged at your home on 110- or 240-volt connections but is capable of fast-charging also. And despite the smaller battery expected in the base model, fast charging will likely stay a standard feature.
Fuel economy is estimated at 104 MPGe city, and 89 MPGe highway, with a driving range of about 268 miles per charge for the RWD ID.4 Pro S. The RWD Pro gets about 107 MPGe city, 91 MPGe highway, and up to 280 miles of driving per charge.
Interior and Cargo
Inside the Volkswagen electric car near Rio Rancho, NM, you'll find a modern design with ambient lighting, high-tech features, and a wealth of cargo space. Clean lines and an uncluttered design make for a sense of calmness throughout the cabin. The front passengers' heated, cloth seats are standard, but upgrading to the Pro S trim gets you faux leather upholstery and 12-way power-adjustable front seats with memory. Independent testers fit eight carry-on suitcases behind the back seats and a whopping 26 with the rear seats folded down!
Visit Us
If you wish to discover more about the VW ID.4 or any other of our fabulous new models, stop by 8201 Lomas Blvd NE in Albuquerque NM.