Find a Fantastic Volkswagen used Car near Rio Rancho NM at Fiesta VW
Your next new car doesn't need to come with a hefty price tag and doesn't need to cause unnecessary worry. Look to Fiesta Volkswagen to find your ideal Volkswagen used car near Rio Rancho, NM, at an excellent price. Our helpful and well-informed sales associates will guide you along every step of the way in the shopping and buying process. You can trust Fiesta VW as the used car dealer that gets you behind the wheel of an outstanding pre-owned dream car, SUV, or truck for a fantastic price!
Only the Best Make the Cut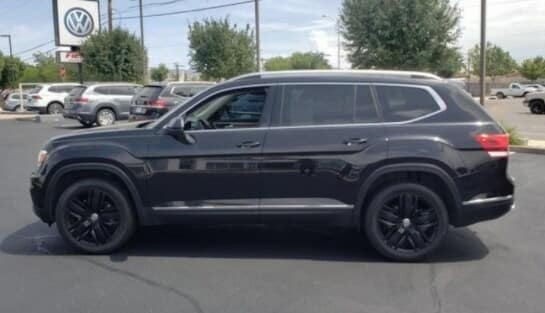 Purchasing the wrong used car can sometimes lead to big problems later on down the road. You can't always determine if cheap or substandard aftermarket parts were used, and you don't know what kind of structural damage could be lying in wait underneath the shiny paint job. But instead of worrying about your used car purchase, you should shop Fiesta Volkswagen for a worry-free experience. We'll get rid of the hassle and leave you with the happiness of driving away in the safe and secure car of your choosing. We're proud to offer only the best models that have passed through our lot, and we're confident you'll find a vehicle that will give you a great ride for a long time. When you shop for a Fiesta VW, you'll never have to worry about bringing home a lemon that breaks down only a few months after purchase. are Our highly trained and certified technicians thoroughly examine all of our used models, which must then pass a rigorous multi-point inspection. From the minor components of the engine to the interior details to the exterior quality of the vehicle, everything is checked and rechecked to ascertain it's up to par and meets the high standards of Volkswagen.
Online Tools for a Better Search
When you choose to explore Fiesta VW for your Volkswagen used car near Rio Rancho, NM, you'll always be given first-rate customer service. You'll also receive an assortment of online tools that you can use easily on your own at home. You can refine your search and set parameters according to your wants and needs and what matters the most to you, such as mileage, fuel economy, type of engine, model year, color, and more. After you've found the used vehicle that you can't live without, you can schedule a test drive, request more information, and send all the data you discover right to your mobile phone straight from the links on the website.
Specials on Volkswagen used car near Rio Rancho, NM
At Fiesta VW, you can also take advantage of special offers and sales events on our used inventory, making buying from us even more worthwhile. Be sure to check our website frequently, as exciting new deals are added at regular intervals. You never know when you'll spot an offer that becomes the push you need to come over for a test drive.
Visit Us
Whether you're thinking about a used sedan, crossover, truck, or van, our friendly staff is ready to answer any questions you have. Come over to 8201 Lomas Blvd NE in Albuquerque to start looking today!
Contact
Fiesta Volkswagen
8201 Lomas Blvd NE
Albuquerque, NM 87110
Sales: 888-285-9928
Service: 888-306-7794
Parts: 888-356-1952