Choosing a Used VW Car near Rio Rancho NM
Car shoppers frequently rank price as a prime factor in purchasing a used VW car in Rio Rancho, NM. Of course, style and safety have their place in the decision, but the perfect vehicle must come at the right price.
Here at Fiesta Volkswagen, we offer a variety of previously owned cars, trucks, and SUVs that are affordable and ready to go! Our clients enjoy an easy buying process with a friendly staff, so it's no surprise we're a trusted used car dealership in the Albuquerque area.
Learn more about the perks of buying a used VW and discover a few ways to stay on track with your search. Then visit us for a test drive!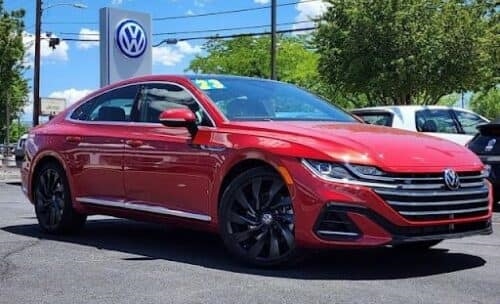 ​​​​​​​
Advantages of a Used VW Car near Rio Rancho, NM
There are many benefits in choosing a dependable and budget-friendly used vehicle instead of a brand-new one. When you travel home in one of our popular models, such as a used VW Passat or Jetta, you'll enjoy the following:
Variety – From the hot hatch Golf GTI to the sporty Tiguan crossover, our stock of used and CPO Volkswagen vehicles includes something for everyone. Our large selection means you'll find the perfect fit for you and your family.
Dependability – Whether you're going on a road trip vacation or commuting to work, you need a reliable ride. Volkswagen builds vehicles that last, with the promise of comfort and performance.
Affordability – Our VWs were made to be driven, so each one is priced competitively. We extend financing options and payment plans to match every budget, so stop by to see what we have for you.
Safety – Regardless of your purchase, the VW brand will impress you with advanced safety technologies. In fact, every model is equipped with LATCH child seat attachments, and some models come with as many as nine airbags!
How to Select a Used Car
Although you may have decided to buy a used VW car near Rio Rancho, NM, you still need to find the perfect fit. Here are a few recommendations:
Make a budget. Setting a budget -and sticking to it- is paramount, so make this your first step before browsing the inventory. Establish a comfortable monthly payment, and don't forget to include additional costs like registration, insurance, and maintenance.
Make a list. Compile a list of must-haves for your used VW vehicle. Consider fuel efficiency, cargo space, infotainment, and driver-assist features.
Choose between used or CPO. A CPO vehicle is priced higher but must meet rigorous criteria, including a collision-free history, proper maintenance, and reasonably low mileage. Every CPO auto has been through strict testing and reconditioning to ensure like-new performance and has an extended warranty.
Consider your financing. When you've found the perfect used VW, it's then time to think over your financing options. Gather the details on your income, expenses, work history, credit card debts, etc. Our finance pros will usually present several options based on your particular situation.
Take a test drive. Now comes the fun part! A test drive is the best way to decide if your choice is a good fit, so get ready to go for a spin.
Discover Your Used VW at Fiesta
Whether you've decided on a traditional used VW or a CPO model, we've got you covered here at Fiesta VW. Our selection is unrivaled, and our team is here to help. Visit us today at 8201 Lomas Blvd NE, Albuquerque, NM 87110.