Albuquerque Volkswagen: Fiesta VW
The number one car dealer is the Albuquerque Volkswagen dealership, Fiesta Volkswagen. Our staff is trustworthy and enthusiastic with numerous years of customer service experience. We are a full-service dealership, and we are ready to assist you with the purchase of a new or used Volkswagen. You can buy, finance, and have your Volkswagen serviced at Fiesta Volkswagen.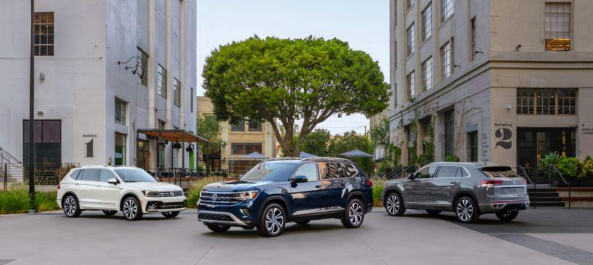 ​​​​​​​
Albuquerque Volkswagen: Inventory
At our Albuquerque Volkswagen dealership, we have an extensive inventory of new Volkswagens for you to explore, such as the Atlas, Golf GTI, Jetta, Tiguan, Atlas Cross Sport, ID.4, and the Taos. We also maintain an assortment of pre-owned vehicles, including the Atlas, Atlas SE, Atlas Cross Sport, CX-5, Cruze, Camaro, F-150, and many more.
VW Specials
Please take advantage of our specials at the Albuquerque Volkswagen. You can enjoy 4.5% APR for 60 months on select vehicles for qualified buyers. In addition, we offer a $500 Military, Veterans, and First Responder Bonus. Students can earn a $500 bonus through our Volkswagen College Graduate Program. There is a potential federal tax credit of up to $7,500 on select Volkswagen vehicles. We offer savings on service, parts, accessories, and repairs. We are currently offering specials for Tire Price Match Guarantee, a rebate when you order Volkswagen accessories (7/1-9/30), 20% off VW DriverGear purchases, and SiriusXM. Click on the Specials tab and see all current deals available.
Fiesta Volkswagen
Our wonderful staff at Fiesta Volkswagen provide magnificent customer service and deliver exceptional quality Volkswagen vehicles. Our team's dedication to serving keeps our customers returning to Fiesta Volkswagen for all their maintenance, service, and car buying needs. We hope our customers return to our dealership when ready to trade their current Volkswagen for the most recent model or buy a pre-owned car. We know it's been tough to locate inventory over the past couple of years. However, we are excited to offer you an extensive selection of Volkswagen vehicles for you to explore. Our aim is to provide a vast selection of vehicles for you to explore. Please drop by and let our experts help you find the perfect Volkswagen and check out our specials.
Please skim through our website to view our extensive assortment of Volkswagen vehicles, parts, and accessories. To provide an efficient car buying experience, we have a few links on our website for your convenience. Our professionals are prepared to answer any questions you may have regarding purchasing a Volkswagen or questions about your current Volkswagen. Our service technicians are equipped to manage all of your routine maintenance using only genuine Volkswagen parts.
You can stop by Fiesta Volkswagen; our showroom is conveniently located at 8201 Lomas Blvd NE Albuquerque, NM 87110. We can't wait for the opportunity to demonstrate how we are the very best dealership to buy your next Volkswagen and accessories. We know there are many other Volkswagen dealerships for you to work with, but we pledge none will deliver the wonderful experience that you will receive at Fiesta Volkswagen. We are thrilled to provide unsurpassed service and are prepared to show you what Fiesta Volkswagen offers.