​​​​​​​​​​​​​​2024 Volkswagen Golf near Rio Rancho NM: Rejuvenated Golf
We are excited to present the newly rejuvenated 2024 Volkswagen Golf near Rio Rancho NM. It boasts dozens of upgrades and enhancements inside and outside that will provide an efficient driving experience. We can't wait to show off the refreshed VW Golf! It will be available on our lot in 2024 and will most likely be the last ICE-powered VW Golf. Volkswagen is on a path to all-electric vehicles by 2033.
2024 Volkswagen Golf near Rio Rancho NM: Golf Enhancements
With the 2024 Volkswagen Golf near Rio Rancho NM, you get a small hatchback SUV that is spunky and fuel efficient. You will notice the new bumpers, LED headlamps, taillights, and sportier design.
Golf Improvements
When you step inside the new 2024 Volkswagen Golf near Rio Rancho NM, you can't help but notice the massive touchscreen for the infotainment system in all trim levels. It will also have new quality materials and technological features such as Smart Air Vents. Plus, the new Golf will have plenty of safety features like driver-assistance systems like adaptive cruise control, lane departure alert, and automatic emergency braking. These safety features all work together to assist the driver in avoiding a collision.
2023 Golf R
If you're looking for a vehicle that will check all your boxes, then take a look at the 2023 VW Golf R hatchback. It has a sporty-sophisticated design, intelligent technology, pep, and comfort. The Golf R can accommodate up to five passengers. It is designed to take on all the adventures you enjoy. The 2023 Golf R has the R-performance 4MOTION with all-wheel drive, which allows you to select your driving mode, Snow, On-Road, Off-Road, and Off-Road Custom. The Golf R is perfect for your daily drive to work, running errands, and ready for a road trip to Bandelier National Monument, where you can experience history. It has Indian pueblos and breathtaking scenery. Take a nostalgic drive down Old Route 66, passing through Algodones, Bernalillo, and Sandia Pueblo to Albuquerque. For adventure-seeking enthusiasts, drive to the Rio Puerco OHV Loop for some off-roading fun. The trail has over 15 miles to explore the beautiful outdoors. For a less edgy challenge, beginner trails are nearby for a less edger challenge, like Forest Loop Road 445, Palo Duroso Canyon, and Coyote Mesa Trail. They range from almost three to over seven miles and provide fun year-round. To improve your driving experience, the Golf R has an instinctive intelligent digital cockpit that allows you to personalize for superior driving kicks.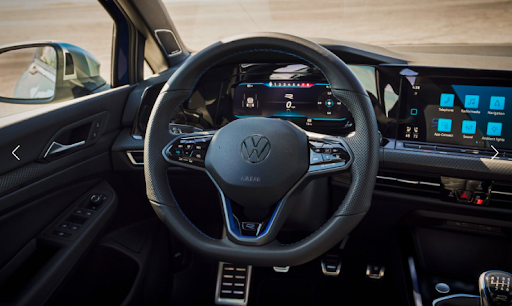 Fiesta Volkswagen
Our team at Fiesta Volkswagen is available to assist you with finding your ideal Golf. We can answer all your questions on purchasing, financing, leasing, and servicing your new 2024 VW Golf. Check our website periodically for updated information on new Golf features and release dates. We expect the 2024 VW Golf to make its debut appearance in 2024.
Our Fiesta Volkswagen team of experts looks forward to assisting you with buying your ideal VW Golf and building a lasting relationship. Come by so we can introduce our incredible team and show you around our lot and showroom at 8201 Lomas Blvd NE Albuquerque, NM 87110.