​​​​​​​2023 VW ID Buzz in Albuquerque NM: Smiling ID.BUZZ
The happiest vehicle on the road is the 2023 VW ID Buzz in Albuquerque NM. It doesn't stop there; the fun continues once you step inside the cabin. You can't go wrong with this electrifying and more powerful bus.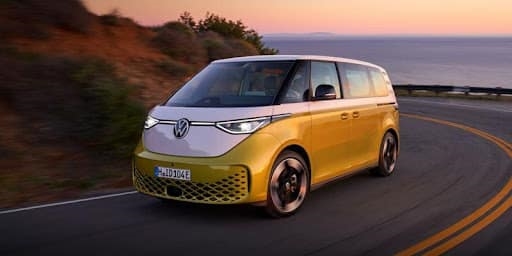 ​​​​​​​
2023 VW ID Buzz in Albuquerque NM: ID BUZZ Updates
We are excited about the new all-electric 2023 VW ID Buzz in Albuquerque NM, with a sliding door. The exterior stayed true to its nostalgic design and had subtle curves that added to its unique design. It will have a longer wheelbase. There will be eleven exterior colors as well as four two-tone color options. The all-electric motor is located over the rear axle of the bus and delivers a considerable amount of power and torque.
Interior Features
Inside the 2023 VW ID Buzz in Albuquerque NM, you will see that VW stayed true to its design and is sprinkled with an assortment of colors, shapes, textures, and fabrics. The interior of the ID BUZZ offers colors that complement the exterior. It comes with a large infotainment touchscreen, and you have the option to upgrade to an even larger screen. The ID BUZZ comes with an all-digital cockpit. In addition, you get Apple CarPlay and Android Auto connectivity. There are multiple USB-C outlets throughout the cabin, and ambient lighting allows you to choose the color that matches your mood. It will come with a ton of space and seating for five passengers. It will offer a six and seven seating configuration in the future. The ID.BUZZ is loaded with technology and comes with an assortment of safety features.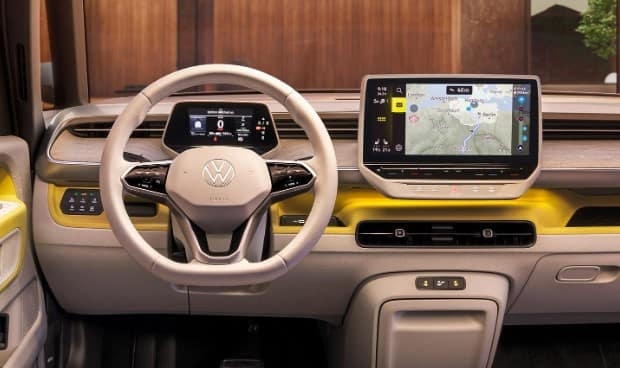 Fiesta VW
At Fiesta VW, we provide incomparable customer service and deliver quality VW vehicles. We recognize the frustrations we've all been facing, especially when it comes to locating inventory. We aim to deliver an extensive selection of VW vehicles for you to explore. Please drop by and test drive any Volkswagen vehicle and take advantage of a thrilling driving experience, precise handling, elite safety features, and a great infotainment system.
Please examine our website to view our inventory of VW vehicles. To preserve our goal of providing an impeccable car buying experience, we provide a collection of links available on our website for your convenience. Our finance department has a group of financing experts ready to assist you with purchasing your new, pre-owned, or leased Volkswagen. We can also help you with pre-ordering your new 2023 VW ID.BUZZ. Our professionals are prepared to answer any questions you may have concerning purchasing, financing, and maintaining your Volkswagen.
Please visit Fiesta VW and allow our group of professionals to help you find, buy, finance, or lease your new Volkswagen.
Fiesta Volkswagen is located at 8100 Lomas Blvd NE Albuquerque NM 87110. We would value you giving us the chance to demonstrate how we are different from other dealers and provide a perfect car buying experience. We realize there are other VW dealers, but we hope you will allow our team to help you purchase your dream Volkswagen and become a lifelong customer.