​​​​​​​2023 VW Golf GTI in Albuquerque NM: Updates
A new and improved hatchback is available. The 2023 VW Golf GTI in Albuquerque NM has numerous improvements and upgrades. Plus, more sophisticated technology. Volkswagen has made some significant exterior and interior enhancements to the Golf GTI.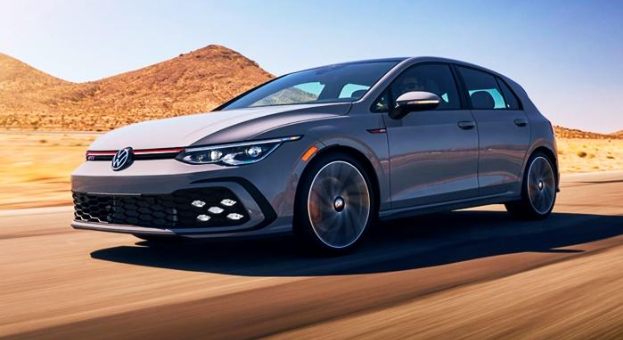 ​​​​​​​
2023 VW Golf GTI in Albuquerque NM: Exterior
Exterior upgrades in the 2023 VW Golf GTI in Albuquerque NM include distinctive LED headlamps, X-shaped for lights, honeycomb grille, and grille accent lines. It will have a powerful engine with top speeds of over 150 mph.
Interior
Volkswagen has designed the interior of the 2023 VW Golf GTI with a distinguishing and retro feel. It is spacious, comfortably accommodates up to five passengers, and has two rows of seating with an assortment of seating combinations. In addition, the VW Golf GTI has tons of storage and a vast cargo area.
Features
The new 2023 VW Golf GTI in Albuquerque NM has an electric driver's seat with twelve settings and leather seats. You can also upgrade to a premium nine-speaker sound system, ventilated front seats, and multi-level zone climate control. The Golf GTI has a large touchscreen, a gigantic digital instrument cluster, Apple CarPlay, Android Auto, wireless charging, and multiple USB ports. VW offers other features to customize your Golf GTI, including a giant touchscreen, navigation, premium audio, Wi-Fi hot spot, satellite radio, and more.
Safety
The 2023 VW Golf GTI's standard safety technology includes automatic emergency braking, forward collision warning, pedestrian detection, blind-spot monitoring, and many other safety features to keep you and your passengers safe.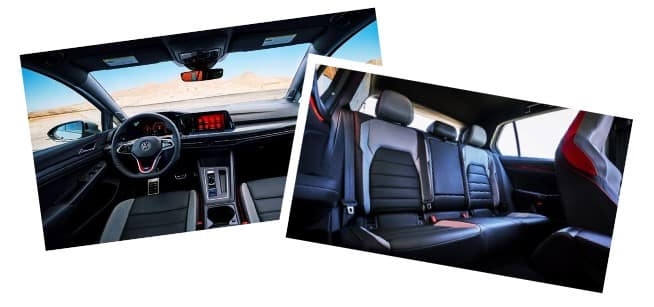 Fiesta Volkswagen
Our staff at Fiesta Volkswagen provide superb customer service and deliver excellent quality Volkswagen vehicles. Our team's focus keeps our customers returning to Fiesta Volkswagen for all their maintenance, service, and car buying needs. We hope our customers return to our dealership when ready to trade their current Volkswagen for the most recent model. We know it's been tough to locate inventory over the past couple of years. However, we are delighted to offer you an extensive selection of Volkswagen vehicles for you to explore. Our aim is to provide a vast selection of vehicles for you to explore. Please drop by and let our experts help you find the perfect Volkswagen Golf GTI to fit your needs.
Please sift through our website to view our extensive assortment of Volkswagen vehicles, parts, and accessories. To provide an efficient car buying experience, we have a few links on our website for your convenience. Our professionals are prepared to answer any questions you may have regarding parts and accessories for your VW Golf GTI. Our service technicians are equipped to manage all of your routine maintenance using only authentic Volkswagen parts.
You can drop by Fiesta Volkswagen; our showroom is conveniently located at 8201 Lomas Blvd NE Albuquerque, NM 87110. We can't wait for the opportunity to demonstrate how we are the number one dealership to buy your next Volkswagen and accessories. We know there are tons of other Volkswagen dealerships for you to work with, but we vow none will deliver the brilliant experience that you will receive at Fiesta Volkswagen. We are thrilled to provide unsurpassed service and are prepared to show you what Fiesta Volkswagen offers.