2023 ID.Buzz near Rio Rancho NM: Electric VW
The most cheerful vehicle you can buy is the 2023 ID.Buzz near Rio Rancho NM. Not only does the exterior shout fun, so does the interior. It doesn't matter which model you select; you will be tickled behind the wheel of this powerful microbus.
​​​​​​​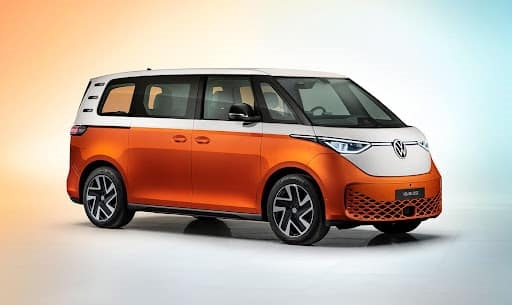 2023 ID.Buzz near Rio Rancho NM: Exterior Updates
We can't wait for the new 2023 ID.Buzz near Rio Rancho NM! This microbus is all-electric and will come with a sliding door. The exterior is a flash from the past with its soft curves, creating a uniquely fun design all on a longer wheelbase. The ID.Buzz is available in eleven vibrant colors and four two-tone colors. You will find the all-electric motor in the rear of the bus over the axle. This new microbus delivers a significant amount of torque and power.
Interior Updates
Step inside the 2023 ID.Buzz near Rio Rancho NM, and see that Volkswagen stuck to its funky style. It has a hodge-podge of colors, fabrics, shapes, and textures throughout the cabin. To complement the exterior design, Volkswagen offers matching interior colors. The ID.Buzz comes standard with a digital cockpit and a large touchscreen; however, you can upgrade to a giant touchscreen. Plus, Apple CarPlay and Android Auto connectivity come standard in the microbus. It has several USB-C outlets sprinkled throughout the cabin and ambient lighting in various colors to match your mood. It provides oodles of room and seating for up to five passengers. The ID.Buzz will offer an option for six to seven passengers arrangements since safety is always a priority, the ID.Buzz comes with of tons safety features and technology.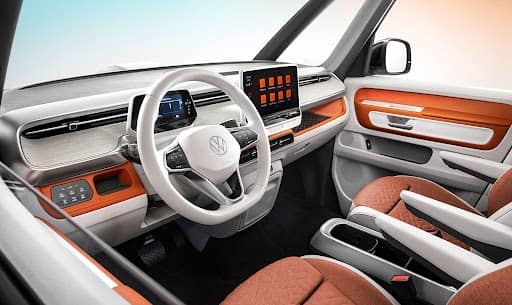 Fiesta Volkswagen
Our incredible staff at Fiesta Subaru provides exceptional customer service and delivers superior quality new and used Volkswagen vehicles. Our team's dedication to serving our community and nearby communities keeps our customers coming back to Fiesta VW for all their service needs and hassle-free financing. We want our customers to return to our dealership when ready to upgrade to the most current model of their Volkswagen. We understand it's been challenging to locate new and used inventory over the past couple of years. We offer a broad selection of the 2023 VW ID.Buzz for you to explore. We aim to provide an enormous selection of Volkswagen electric vehicles, financing, and service at Fiesta VW. Please drop by and allow our experts to help you find the perfect Volkswagen ID.Buzz that fits your needs.
Please explore our website to view our mixture of new and used Volkswagen vehicles and accessories. To provide an efficient car buying experience, we provide a few links on our website for your convenience, including the Kelley Blue Book link. Our pros are equipped to answer any questions you may have regarding purchasing the ID.Buzz. Our service techs are trained to manage all of your Volkswagen's routine maintenance, and we only use genuine VW parts.
Please drop in at Fiesta Volkswagen; our showroom is conveniently located at 8201 Lomas Blvd NE Albuquerque NM 87110. We are ready for the opportunity to demonstrate how we are the very best dealership to buy your next Volkswagen. We realize there are many other Volkswagen dealerships for you to work with, but we pledge none will deliver the wonderful experience you will receive at Fiesta Volkswagen. We are delighted to provide unmatched service and are prepared to show you what Fiesta Volkswagen offers.