2023 ID.4 vehicles in Albuquerque NM: VW EV
Volkswagen has done it! They have engineered a more intelligent SUV, the 2023 ID.4 vehicles in Albuquerque NM. It is undeniably an SUV you want to check out. The ID.4 is engineered to meet your needs in class, versatility, performance, and dependability. The 2023 ID.4 is in the process of being assembled in Tennessee.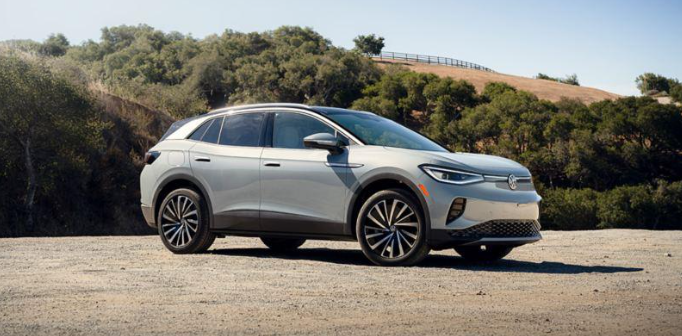 ​​​​​​​
If you have not reserved your 2023 ID.4 vehicles in Albuquerque NM, call or come by and let our product specialists assist you with securing your new electric Volkswagen ID.4. After you've placed your order and reserved your new ID.4 you can come into Fiesta VW to view your configuration on Volkswagen's My ID.4 Reservation. You can also track your ID.4, so you will know as soon as it arrives at Fiesta VW. The ID.4 Reservation provides electric vehicle lifestyle tips, information on the building process, and the progress of your ID.4.
Performance
You will be overflowing with excitement with the EPA-estimated 275-mile range of your 2023 VW ID.4. The 2023 ID.4 vehicles in Albuquerque NM offers all-wheel drive, which provides a second electric motor for even quicker acceleration. It also delivers the power where it is needed using intelligent handling. You will have no hesitation when you put the pedal to the metal! The ID.4 has quieter acceleration even though it delivers direct force.
Charging
It will be simple and convenient to charge up your 2023 VW ID.4 with an at-home charging station and a growing number of public charging options. You can charge your Volkswagen ID.4 by purchasing a Level 2 charger for at-home charging. A Level 2 home charging option with Wi-Fi is available that allows you to use a mobile app for at-home and on the go charging. A Level 2 charger provides a full charge in about seven to eleven hours.
Design Highlights
When you buy a 2023 Volkswagen ID.4, you will enjoy a roomy, sophisticated, and comfortable cabin. It presents a sporty, sleek, and elegant electric SUV. The ID.4 offers an extensive panoramic fixed glass roof that welcomes plenty of natural light and a clear view of the sky above. If it's too bright, your ID.4 has an electric sunshade you can close. Additional features offered in the new 2023 VW ID.4 are LED tail lights, lighted door handles, LED headlamps, and glowing Volkswagen logos.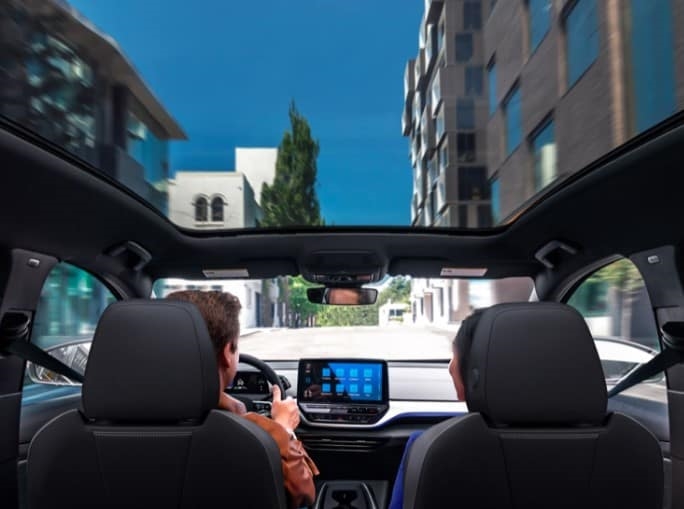 ​​​​​​​​​​​​​​
Fiesta Volkswagen
Drop by Fiesta Subaru and see how we put our customers on a pedestal. Our primary focus is to reach the needs of our customers and deliver quality Volkswagens. We are honored to serve Albuquerque and nearby areas. Call or come in and let our knowledgeable staff tell you about Volkswagen's IQ.DRIVE safety technology and myVW app.
Stop into Fiesta Volkswagen and view our showroom at 8201 Lomas Blvd NE Albuquerque, NM 87120. There are oodles of other Volkswagen dealerships in the Albuquerque area for you to purchase a new electric ID.4; however, we are positive your experience at Fiesta Volkswagen will exceed your expectations.