2022 VW Golf GTI near Santa Fe NM: VW Golf GTI
You will be thrilled with the new 2022 VW Golf GTI near Santa Fe NM. It has a unique design, enriched safety technology combined with exceptional interior features. Volkswagen also offers a manual transmission option for a sporty feel.
2022 VW Golf GTI near Santa Fe NM: Golf GTI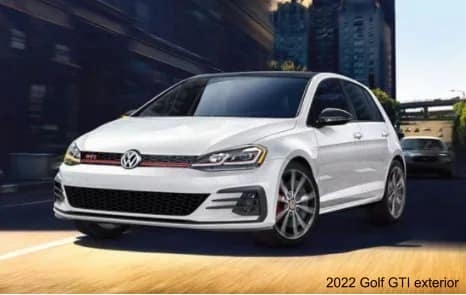 The 2022 VW Golf GTI near Santa Fe NM will be available in a range of trim levels, prices, and different features based on select trim levels. Its exterior design has progressed into a sophisticated and mighty hatchback. A surplus of modern safety technology and amenities will be available in the Golf GTI. It will deliver precise handling, a classy interior, and an assortment of standard features.
Surprisingly the VW GTI is one of the few car manufacturers to still offer an optional 6 speed manual transmission for an even more exciting drive. The 2022 Volkswagen Golf GTI comes packed with 241 horsepower and 273 ft-lbs torque and even offers a DCC adaptive chassis control.
Maintenance Services
VW stays true to what we love about Volkswagen yet with a fresh twist. The 2022 VW Golf GTI near Santa Fe NM has a refreshed interior design with larger gauges and a massive touchscreen. You can take advantage of the control buttons strategically placed on the steering wheel for ease of use. You will not have to take your hands off the steering wheel to adjust the temperature, the radio station, volume, and many other features. For a fresh look, VW added a unique detail to the front seats with pattern inserts. You will get several charging ports throughout your Golf GTI, including Apple CarPlay and Android Auto. Car-Net will be included combined with features such as remote commands, Family Guardian Alerts, Parking info, and a Hotspot. With a head-up display projecting important information on your windshield, you will be able to keep your eyes focused on the road ahead.
​​​​​​​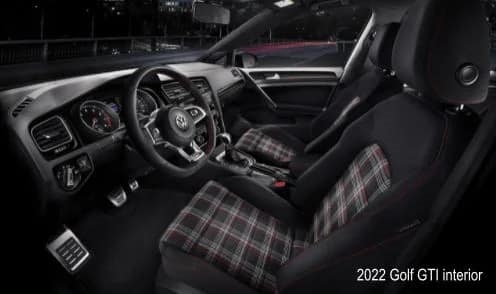 ​​​​​​​
Fiesta VW
Fiesta VW is excited about the opportunity to assist you with your purchase of a new 2022 Golf GTI. You get the chance to see how we are different from other dealers. Our team of product specialists can answer all of your questions regarding the new Golf GTI. They can also help you order a Golf GTI that suits your lifestyle needs.
We are looking forward to assisting you with the hassle-free process. Our finance department is dedicated to locating an auto loan that works with your budget.
Our team of highly trained, certified technicians are equipped with state-of-the-art tools and only use authentic VW parts, ensuring that VW Golf GTI always performs at its best. Take some time to drive over to Fiesta VW; you will be thrilled if you can meet our fantastic staff, check out our waiting area, have a beverage, a snack, and explore our vast selection of VW vehicles. Our showroom is located at 8100 Lomas Blvd. Albuquerque, New Mexico 87110. Give our team at Fiesta VW a chance to help you with purchasing your 2022 VW Golf GTI.
Contact
Fiesta Volkswagen
8201 Lomas Blvd NE
Albuquerque, NM 87110
Sales: 888-285-9928
Service: 888-306-7794
Parts: 888-356-1952