2022 Volkswagen Taos in Albuquerque NM: 2022 VW Taos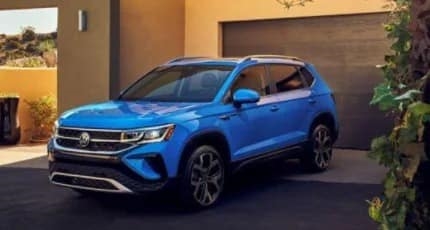 2022 Volkswagen Taos in Albuquerque NM: Motion & Safety
You will have the option of adding 4MOTION all-wheel drive in the new 2022 Volkswagen Taos in Albuquerque NM. This feature will allow you to conquer any terrain with ease with optimal traction. The DSG transmission will give you an energetic ride and effective shifting that you are sure to enjoy. It doesn't matter if you are driving on a snowy day in the mountains, driving on the highway, off-roading, or going on an adventurous trail. There is a driving mode that is prepared to maximize your driving experience. Safety remains a high priority with an assortment of safety features for a confident drive.
Exterior & Interior
A vogueish exterior with unique wheel wells, and a grille that glows is sure to capture the attention of bystanders. Once you step inside the 2022 Volkswagen Taos in Albuquerque NM you will be wrapped in comfort. The VW Taos presents all the amenities for a fun and convenient ride. Open your panoramic sunroof to let some of the outdoors inside. It's always more fun with friends. It will accommodate up to five passengers comfortably, so invite some friends to join you on your next outings. On hot summer days, you can take advantage of ventilated seats to keep you cool when it is freezing outside. Grabbing hold of a warm steering wheel will feel very cozy and make for a more enjoyable ride. We travel with so many electronics and are always looking to charge a device. With various charging outlets located in the cargo area, your devices will always be ready to go.
Technology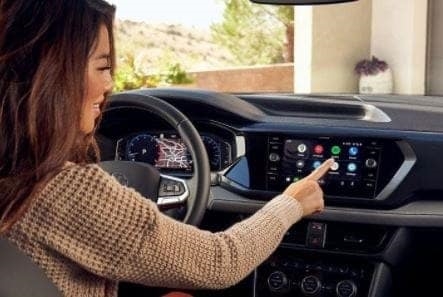 Who doesn't love technology! The 2022 Volkswagen Taos in Albuquerque NM is overflowing with handy technological features. The new digital instrument panel permits you to customize the display of the information of your choice boldly. No more wires! The new wireless charger allows you to keep your smartphone charged even if you forget your cord. Whether it is cold or hot outside, the remote start feature will enable you to set your VW Taos to a comfortable temperature, so it's ready when you are. Music takes every ride to the next level. Consider upgrading to the BeatsAudio system for a fantastic jam session.
Fiesta VW
Please visit our new website. Our team at Fiesta VW offers a knowledgeable and dedicated staff with years of experience meeting the needs of our customers. You can peruse our inventory online, send a request for additional information, schedule a test, and complete an auto financing application. We are ready to assist you with locating that unique Taos that works for you and finding an auto loan that works within your budget. Please stop by to view our vast inventory and visit our showroom at 8201 Lomas Blvd NE Albuquerque, NM 87110. Please experience our elite service for yourself.
Contact
Fiesta Volkswagen
8201 Lomas Blvd NE
Albuquerque, NM 87110
Sales: 888-285-9928
Service: 888-306-7794
Parts: 888-356-1952